Savings, Safety, Peace of Mind
- Improved Fuel Economy
- Extended Tire Life
- Decreased Wheel Corrosion
- Better Drivability and Handling
TCA provides everything you need to develop a customized nitrogen tire filling program at your facility. We provide equipment, caps and cap programs that are fully customizable to your needs and requirements.
Why nitrogen is better for your tires and for you:
What is nitrogen?
Nitrogen (N2) makes up the majority of the air that we breathe and is in the protein of all life on earth. It is colorless, tasteless and non-toxic. The next most common component of air is oxygen (O2). Together N2 and O2 make up approximately 99% of the air we breathe and traditionally fill tires with.
Why is nitrogen better than air?

The smaller oxygen molecule escapes more easily through the porous rubber of the tire than nitrogen as seen in the picture to the right. Studies by the National Highway and Traffic Safety Administration (NHTSA) and other private companies have shown that nitrogen escapes at a slower rate than oxygen. A tire filled with 93-95% N2 maintains its proper pressure roughly three to four times longer than air-filled tires. Proper inflation provides better fuel economy, extended tire life, superior handling and increased safety by reducing the likelihood of loss of control due to low tire inflation, blowouts and other tire failures.
O2 in a tire provides unwanted oxidation. Over time, this reaction can damage the inside of the tire and corrode wheels. Aluminum wheels are especially vulnerable to corrosion particularly around the tire bead seating area, which ultimately can impair the tire's ability to retain constant pressure. N2 on the other hand, is a harmless, dry, inert gas that does not react negatively with tires and wheels. Because nitrogen is a clean, dry gas, N2-filled tires have virtually no water vapor in them, which reduces tire heat, decreases rolling resistance and improves fuel economy.
Where is nitrogen used?
N2 filled tires are all around us. All passenger planes land and takeoff on nitrogen-filled tires. Racecars, heavy machinery, construction vehicles, commercial vehicles, military vehicles and even Tour de France bicycles have nitrogen in their tires. As fuel prices rise, nitrogen tire filling becomes more popular throughout the world.
Still Need Convincing?
"One thing government and tire-industry officials agree on is the importance of keeping tires properly inflated. The risk of under-inflation, which stresses tires by causing their sidewalls to flex more and the air temperature inside to rise, were highlighted during congressional hearings a few years ago. Under-inflation was identified as a factor in the failure of these tires." - Wall Street Journal
"The primary result expected from nitrogen inflation is to enhance retention of tire pressure over time, which will help maintain tire performance properties such as rolling resistance, handling and durability." - From U.S. Department of Transportation Report "The Effects of Varying the Levels of Nitrogen in the Inflation Gas of Tires on Laboratory Test Performance", March 2009
Bridgestone says air inflated tires lost an average of 2.7 psi per month and nitrogen inflated tires lost an average of 0.7 psi per month. - Guy Walenga, Clemson Tire Conference, March 2004
Michelin supports the use of nitrogen based on its ability to better retain pressure over a period of time. - Michelin Technical Bulletin, November 2003
Goodyear says 15% under-inflation equals 8% less tread mileage and 2.5% decrease in fuel economy. - Goodyear Radial Truck Tire and Retread Service Manual, Page 40
The United States Department of Energy estimates that Americans consume over 2 million additional gallons of fuel each day due to tire under-inflation.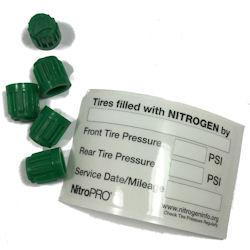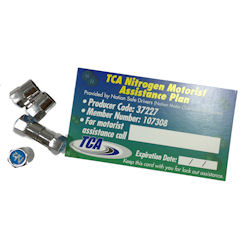 Caps, Equipment & Cap Programs
TCA is prepared to customize a program around the needs of your facility and customers. We carry green plastic caps and chrome N2 caps. We build a cap program with or without roadside assistance and tire hazard coverage. We can add cap programs to any Valvoline Professional Series Program for a full-service offering.
TCA Nitrogen Motorist Assistance Plan
TCA partnered with Nation Safe Driver to provide protection plans for nitrogen tire-fill programs. (Custom cards are available) Consumers receive:
· 24-Hour Emergency Roadside Assistance - You are covered for emergency road service throughout the United States and Canada.
· 24-Hour Towing Service - You are entitled to emergency towing service at no out-of-the-pocket cost for any tow up to your benefit limit. Extended towing distance is available at your expense.
· 24-Hour Flat Tire Change Service - You may have your flat tire changed with your inflated and functional spare tire.
· 24-Hour Necessary Fluids Delivery - A service truck will deliver emergency supplies of gasoline, water, oil or other necessary fluids. You pay only for the cost of the supplies at the time service is rendered.
· 24-Hour Jump Start - You are covered for battery boosts and minor adjustments to alternators, starters, etc. while on the road.
· 24-Hour Lock-out Service - If keys are locked inside your registered vehicle, you will be assisted in gaining entry to the vehicle's passenger compartment only. Locksmith services may be dispatched as needed at your expense for labor and key making.
· $150 Tire Replacement/$50 Tire Repair (Consumer Reimbursement) - In the event that your tire(s) becomes damaged due to Road Hazard, we will provide reimbursement, up to $150.00 for tire repair/replacement. A Road Hazard is defined as a condition on a road which should not exist there, such as a pothole, nails, glass or other debris.
· Emergency Travel Expense - In the event your vehicle is disabled, you may qualify for $300 ($100 per day/up to 3 days) in emergency trip expense reimbursement.
· Trip Routing Service - We will, at no charge, provide you with a 4 – color mapping and travel route information to destinations you specify.
· Theft and Hit & Run Protection - A $500 reward is offered for information leading to the arrest and conviction of anyone responsible for Hit & Run damages of the theft of your vehicle.
· Discount Travel Benefit - Receive unbeatable pricing on hotels, airfare and rental cars.
TCA Nitrogen Equipment
TCA partners with many equipment companies including Mahle and Flo Dynamics. We provide the equipment solution that will work best for our customer. When we say "custom", we mean it. We will procure the equipment that will work best in your facility.